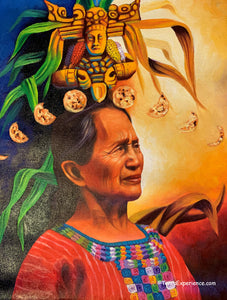 Aliix Mendoza Large Oil Painting - Abluela de Maize /Grandmother of Corn (P-L-AM-20A) 16" x 19.5"
Aliix Mendoza
Regular price $300.00 Sale
Alliix Mendoza medium large oil painting - "" Mayan Grandmother of Cornl".   Approximately 16" by 19.5"

Aliix Mendoza is a young San Juan La Laguna Artist I have enjoyed meeting and talking to in the past few years.  He currently focuses on 
Maiz (Corn), sacred to Mayan and from which Mayan creation story says people are made of.  He shares his gallery with other young Mayan artists. He is now married and his wife is also a painter.

Note: To see enlarged version of the painting, left click on the painting below. To enlarge again click "+" sign.  (Return to product page using back button).




The painting is not stretched and will be shipped in a roll to reduce shipping cost and protect the painting.