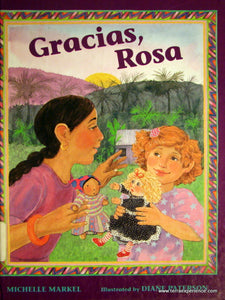 CB - Markel, Gracias Rosa
Terra Experience Collection
Regular price $10.00 Sale
֍Gracias Rosa
, Michelle Markel, Diane Paterson (Illustrations) (1995), 32 pp.,
12 oz ---
[ages 5-10, reading grades 1-4]
[Refugee and Immigrant Experiences]
  in English with some Spanish words in text and a glossary for these words.
Kate is not so sure about her new babysitter, Rosa, who is from Guatemala, speaks Spanish and only a little English. Then Rosa gives Kate a soft cloth doll with dark hair in one long braid just like Rosa and life is better.  Katita (little Kate) learns a little Spanish, some food and customs from Guatemala and about Rosa's family including a daughter left in Guatemala.  When Rosa returns to Guatemala, Kate gives her a favored doll to take to her daughter.  Kate keeps the soft dark-hair doll, good memories, and exchanges letters with Rosa.
Limited quantities available (hardback no longer in print)