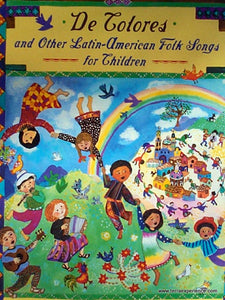 CB - Orozco, De Colores and Other Latin-American Folk Songs for Children
Terra Experience Collection
Regular price $15.00 Sale
De
Colores and Other Latin-American Folk Songs for Children;
Jose-Luis Orozco, Elisa Kleven. illustrator (1994), 56 pp [ages 4-adult], 
24 oz
 

---

 
[Living Mayan Culture]
more
bilingual in Spanish & English
A wonderfully illustrated book of Latin American children's song's chants and rhymes.  The 27 songs are in Spanish with English translations.  I have heard my friends from Guatemala and Mexico begin to recite "El Chocolate" as they talk about making and drinking chocolate. Many mothers  repeat "Sana Sana" as they rub a hurt and comfort a small child."  And at Christmas and birthday's the "La Pinata" song becomes a favored chant.  The book includes simple musical arrangements for piano, voice and guitar.  There are also short descriptions of how the song is used in every-day life and again, wonderful illustrations by Elisa Kleven.