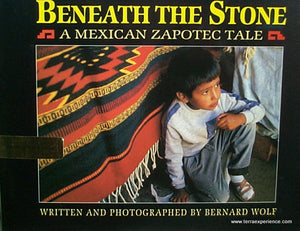 CB - Wolf, Beneath the Stone: A Mexican Zapotec Tale
Terra Experience Collection
Regular price $17.00 Sale
֍
Beneath the Stone: A Mexican Zapotec Tale; Bernard Wolf

,  (

1994) 
16 oz
---
[ages 5-12, reading grades 3-6th]
[Living Mayan Culture]
An excellent child's eye perspective of life in a Zapotec Indian village, Teotitlan del Valle, Oaxaca, Mexico.
This village is a well-known center of
tapetes
, beautiful rugs and tapestries that are hand-woven on a floor loom with patterns similar to North American Indians.
The photos are clear with a perspective that kids should be able to relate to and create a wonderful mosaic of the elements of a Zapotec Indian family's life.
The writing provides a simple, but dynamic explanation of this mosaic that is, again, kid directed.
This book is one I  highly recommend.
Limited quantities available (hardback no longer in print)