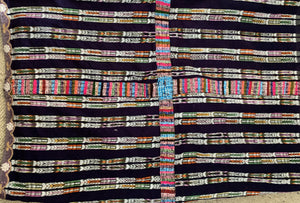 Corte - Solola Guatemala Skirt or Corte Material with Jaspe and Randa C_SO_006
Terra Experience Collection
Regular price $50.00 Sale
Solola Woman"s Corte --- Beautiful jaspe  traditional patterns in two-panel foot-loomed  corte (skirt) material  from Solola, Guatemala.. The fine embroidered multicolored randa holds the  panels together. Colors are dark navy  stripes that include white, orange, pink, green and yellow jaspe designs in lighter stripes.   The bottom edge of the skirt has an interesting (but worn) applique design.  It was a tube skirt that has been opened, so is now a rectangular piece of fabric. 

Material Dimensions:
 skirt material is 33" 
(weft)  by 88" (warp ).  Weight is 2.0 lbs.
Condition:  Material in good used condition with the exception of the bottom edge of the skirt that has somewhat worn applique.  
Note: Only a portion of the skirt is pictured (its winter in Wisconsin so difficult to take pictures of skirts on my porch - but if you are interested, can take a few more pictures.