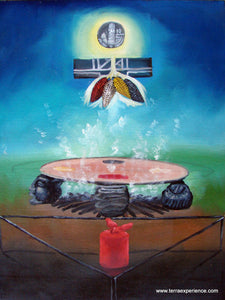 Aliix Mendoza Large Oil Painting - "Xkub" Mayan Kitchen or Comal (P-L-AM-002) 13.5" x 17.6"
Aliix Mendoza
Regular price $115.00 Sale
Alliix Mendoza medium large oil painting - "Xkub" Mayan Kitchen or Comal". Signed "Aliix Mendoza" on the side of the canvas. 

Aliix Mendoza is a young San Juan La Laguna Artist I have enjoyed meeting and talking to in the past several years..  He paints local landscapes with a fresh feel.  He also paints abstracts that often include the lake, Mayan symbols and cosmology, and his own interpretation of the intersection and balances of traditional Mayan culture and the pulls of modern societies influence.  He shares his gallery with other young Mayan artists.

Note: To see enlarged version of the painting, left click on the painting below. To enlarge again click "+" sign.  (Return to product page using back button).