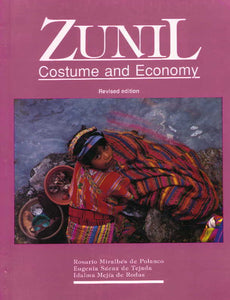 Zunil: Costume and Economy, Miralbes de Polanco
Terra Experience Collection
Regular price $40.00 Sale
 Zunil:  Costume and Economy
Miralbes de Polanco, Rosario; Eugenia Saenz de Tejada. Idalma Mejia de Rodas. 
Paperback      Condition: Good used
Description:      
A museum monograph of the Museum Ixchel in Guatemala.  The liberally illustrated book covers native dress and its development through time in this major Kiche Maya town in the western highlands.  The major emphasis is textile procedures, production and the costume traditions.  It also includes chapters on Zunil's community and economy.  The 165-page paperback book measures approximately 11 x 8.5 inches and has has stiff pictorial covers.  While a NEW, the book has somewhat bent corners.
Key words:        Zunil, Guatemala,  Weaving, Culture, Mayan Indians, Kiche, Costume, Textiles
Zunil: Costume and Economy, Miralbes de Polanco, Rosario; Eugenia Saenz de Tejada. Idalma Mejia de Rodas. Revised Edition.  Guatemala:  Museo Ixchel de Traje Indigena de Guatemala,   Museum Monograph #7; English language version; 165 pp (1996)